Back
How to Choose a Service Learning Project in 5 Steps.
Author: Carla Wright
August 24, 2017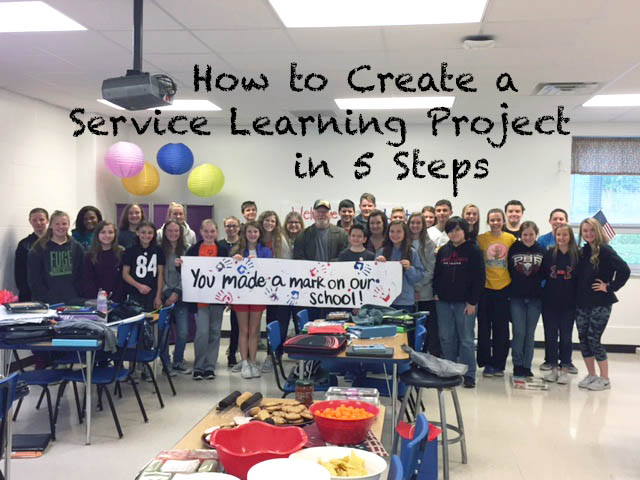 How to Choose a Service Learning Project in 5 Steps.
This is a guest post written by Daphane Polanowski, a sixth-grade student at Sullivan Middle School.
Service learning projects are a great way of teaching students a multitude of 21st- century skills, such as: social-emotional learning, team building, project management, leadership skills, and empathy. Just ask Daphane Polanowski, a sixth-grade student at Sullivan Middle School. Here's how her class implemented their skills to create a service-learning project that impacted an entire community.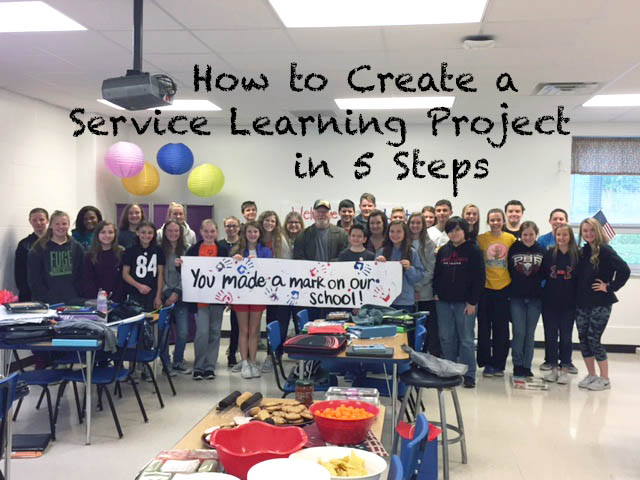 1.    Brainstorming the Project
Our teacher, Mrs. Sohn, had us all come together in a class meeting to brainstorm service learning projects for the school year. The whole class did a round robin (where everyone gets a chance to speak and have their voice heard) and several of the students mentioned doing something for veterans since Veterans Day was approaching.  Some other topics that came up were: working with nursing-home residents, going to the hospital and spreading good cheer, beautifying a cemetery that was in need of help, and working on reading with our Primary School. So, the group voted and the winner was veterans.
2.    Flesh Out the Details
The next step was to decide what our Lighthouse class was going to do with/for the veterans.  Once again, we tabled this discussion and came up with sending a veteran to Washington, D.C.  So, we had to decide on how we were going to raise money and who would be the lucky veteran chosen by the class.
3.    Take Action
In order to find our lucky veteran, we asked all of the students at SMS if they knew of any veterans who would be interested in coming in for an interview. That is how we compiled a list so that we could send out invitations with times and dates for the interview. In total, we had six candidates— we even Skyped one in another state!  We took action and decided that we should create interview questions to ask the veterans who were interested. When coming up with the interview questions, the class broke up into groups and generated a list of questions. Next, all questions were shared and we decided, as a class, on which 10 questions we would ask the six veterans. We made sure the questions were appropriate and would not offend or make the veterans feel uncomfortable. Finally, we designated a day to interview the veterans (and another day to Skype). Once veterans were interviewed, it was time to decide who the lucky one would be.
4.    Get the Community Involved
During the interview period, the class contacted a local business to see if they would partner in this learning adventure. In this case, we contacted Paramount Cap Factory, and the owner said absolutely! Hats were donated and the class made labels that were attached to them stating, "You sent a Veteran to Washington, D.C." The hats were sold to the community and all proceeds went to sending the veteran, along with spending money for a souvenir, on the trip of a lifetime.
5.    Finalize Participants
Finally, as a class, we had to choose which candidate would visit Washington, D.C., and we chose a veteran named "Lefty" because everyone in the class just loved him.
This service learning project has impacted all of the people involved because the students got to experience what it felt like to do something amazing for another person, and everyone felt good about themselves after this project. We honored all veterans at a school-wide Veterans Day assembly, where we called Lefty (our chosen veteran) up and presented him with the trip. The assembly consisted of a variety of clubs and organizations presenting and standing proud for those whom veterans have served. The school band played songs and the choir inspired us through music, while all branches of services with veterans in attendance were recognized. Lefty, the veteran we chose, was impacted the most by the project because he said that before this happened, he was angry and thought no one cared about this war and those who served during this time. After this project, though, he said he felt so good and appreciated. He told the school that he has a new outlook on life and on this new generation of young students.
For more ideas on how to implement Leader in Me in your school, please visit: Leader in Me
The views and opinions expressed in this blog post are those of the author and do not necessarily reflect the official policy or position of FranklinCovey.
Tags: classroom, education, How to, ideas, K12, leadership, project based learning, school, students, teachers, tips, wellness-leadership