Back
Screen-Time Recommendations for Children: Research Based Tips
Author: Leader in Me
December 7, 2018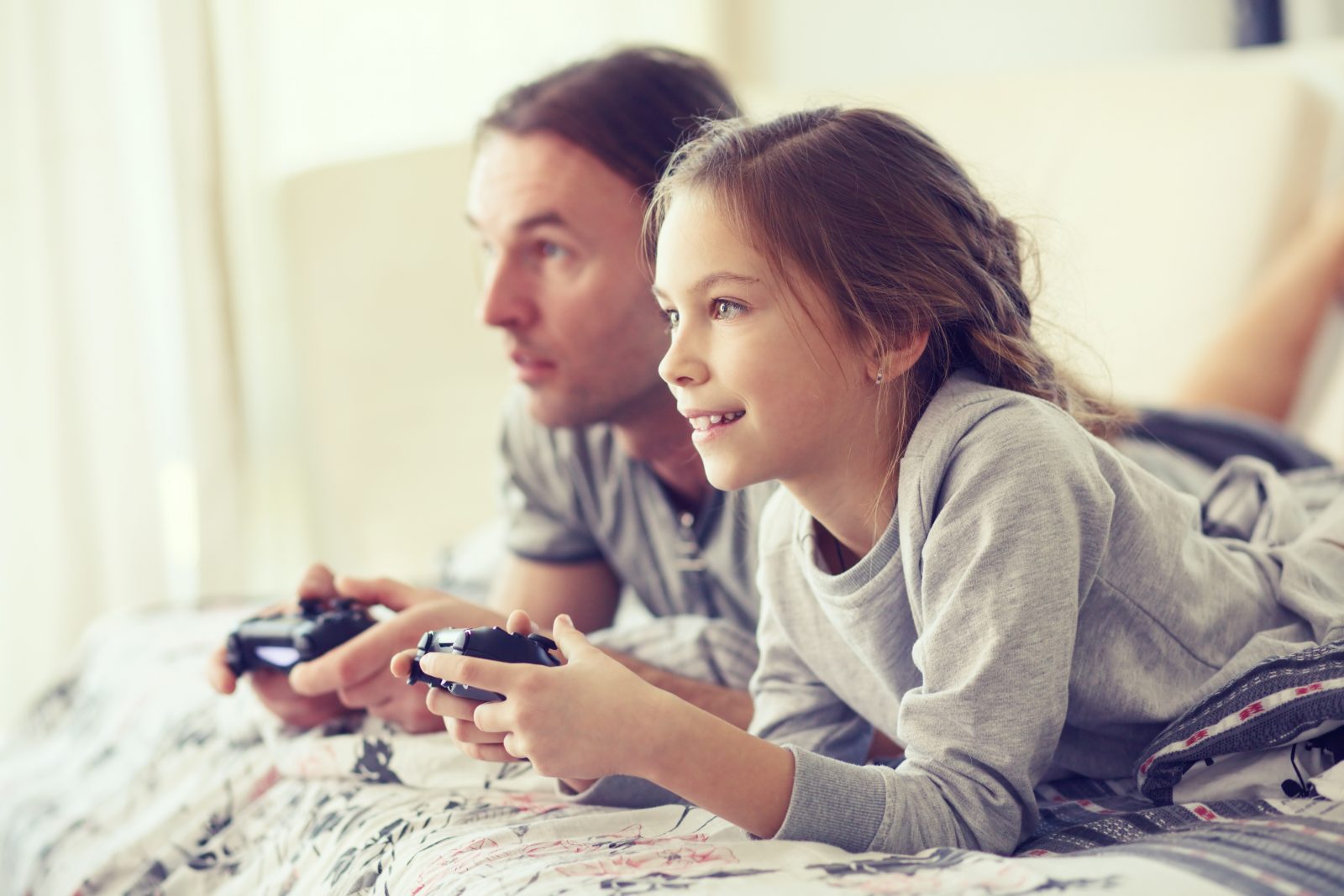 Screen-time recommendations for kids can be a conundrum for parents. As digital use increases in education, it is important to familiarize yourself with screen-time recommendations for kids based on age and activity.
Here's why.
Did you know in the United States alone, 91 percent of children between the ages of 2 and 17 play video games (NPD Group, 2011)? In that same group, looking solely at teenagers, 99 percent are boys and 94 percent are girls (Lenhart et al., 2008). That's a vast majority of children playing video games anytime, any day of the week.
This means the majority of students are using some sort of digital device to access information and entertainment. That's why it's important to familiarize yourself with screen-time recommendations.
Screen-Time Recommendations for Children
According to the American Academy of Pediatrics, screen time recommendations vary based on age. The screen time recommendations are as follows:
For children younger than 18 months, avoid the use of screen media other than video chatting. Parents of children 18 to 24 months of age who want to introduce digital media should choose high-quality programming and watch it with their children to help them understand what they're seeing.
For children aged 2 to 5 years, limit screen use to one hour per day of high-quality programs. Parents should co-view media with children to help them understand what they are seeing and apply it to the world around them.
For children aged 6 and older, place consistent limits on time spent using media and the types of media, and make sure the media does not take the place of adequate sleep, physical activity, and other behaviors essential to health.
Designate media-free times together, such as dinner or driving, as well as media-free locations at home, such as bedrooms.
Have ongoing communication about online citizenship and safety, including treating others with respect online and offline.
With these screen-time recommendations in mind, the screen time allotted is really up to you—the parent. Screen time should be viewed as a balance. Just like with food, screen-time recommendations cannot be given as a blanket statement, since not all screen time is the same. For example, high-quality programming such as PBS, NPR, or a documentary do not have the same effects on a child's brain as video games do; balance among digital media is important.
Screen-Time: Set a Family Timer on Gaming Consoles  
On Xbox One®, Playstation® 4, and Nintendo Switch™, there is an option to set a "Family Timer." The cool thing about the Family Timer is that it still allows your child to play video games, but with a time limit. The family-control setting allows you to set the timer to either "daily" or "weekly" and specify the amount of time your child can spend each day or week playing video games. Some consoles, like Nintendo Switch, even allow you to see what your child is playing the most, all from your mobile or desktop.
The family setting on these consoles gives you two options to choose from. If you are teaching your child time management but they haven't mastered it yet, one option is to have the timer completely shut down the console after time is up. The console will not turn back on until the next day, as per the settings you designate.
For older children, the other option is to set a timer that will go off to remind your child that the allotted time for video games is up. This can be a better option for older children who are capable of managing their time.
So while your child is engaging in relationship skills and social awareness, it is also a great opportunity for parents to help instill responsible decision making (playing with the timer in mind) and self-management (choosing the best times to play with friends during the time allotted)—all key competencies of social-emotional learning and social-emotional learning programs.
Screen-Time: Set a Time on a Mobile Device
In the wake of technology invading our everyday lives, many educators are struggling with the issue of screen time during class. Some teachers have a policy of taking away cell phones from students who use them during class—but that's only if a student gets caught using one. So how can parents and educators help minimize screen time on a mobile device when such appealing games as Fortnite® and PUBG® are available to play away from the consoles and PC?
One recommendation is an app you can download and install on you and your child's phone. It's called Flipd™.  
Flipd is an app designed to help people boost productivity and minimize contact with their mobile device (ironic, we know). But this app will successfully lock you out of your phone to help keep you productive—don't worry, it's not a permanent lockout, and you can set up Flipd to whitelist certain apps you absolutely need access to. It will also keep a log of how many hours you devote to your phone and what you are doing on your phone. This app is meant to be an eye-opener about the time you spend on your mobile devices.
And the great news for educators is that Flipd can also be used in an educational setting. According to Flipd's website, "Flipd nudges students to achieve digital wellness while helping you capture powerful data around engagement and participation. Flipd helps you identify potential problems, like which students are struggling to pay attention or if one has more trouble unplugging from their phone. Turn these insights into teaching opportunities to maximize student potential."
Flipd can even be used to remotely "flip off" a user from another user's device. This can be helpful for group projects or for individuals who need a little extra help detaching from their mobile device.
Flipd is just one example of apps designed to increase productivity at school and at work. There are a handful of apps available in the Google Play™ store and the Apple Store®; just search "productivity," and a list of apps will appear. Check the description of the app to find one that suits your family's needs.
At the end of the day, technology is not going away and is, in fact, intertwining itself further into our everyday lives as the years pass. We don't have to fight its integration, but we can work with it to enhance our lives. With proper screen-time recommendations in mind, there is no reason you and your child cannot find happiness, education, and balance in the digital world.
Author
Carla Wright is the social-media manager for FranklinCovey Education. Before starting at FranklinCovey, she taught SAT/ACT prep, English, and history in Fort Lauderdale and Miami. She holds a B.A. in English and a B.A. in Public Communication with a minor in European history from Florida Atlantic University (go Owls!). She enjoys reading, writing, and learning about various topics, but finds technology and astronomy to be her go-to guilty pleasures. When she isn't busy learning in her off time, she can be found on STEAM, Twitch, Discord, or her Xbox playing FPS, MMOs, and RPGs.
Tags: family engagement, video games