Back
Why Rethink Leadership?
Author: Marshall Snedaker
August 31, 2016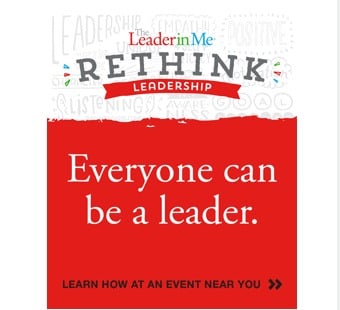 Muriel Summers, the principal of A.B. Combs Elementary, said, "We only get one chance to prepare children for a world none of us can possibly predict. What are we going to do with that one chance?"
Educators must help students develop 21st-century skills that will enhance learning today and impact their future tomorrow—but how?
Everyone can be a leader. This powerful message resonates with students. Leadership is commonly viewed as a title, limited to a select few or those who are most experienced. While it is true that leaders are catalysts to making the world a better place, the opportunity is open to everyone—especially children.
A grand-prize winner from the recent Leader in Me Student Speech Contest  said, "We can all improve our world by becoming everyday leaders." Today nearly 1.5 million students at Leader in Me Schools share this exciting new paradigm.
What would change in your school if every child were a leader? Over 3,000 Leader in Me Schools in 50 countries are embracing this new paradigm and discovering answers to some of the most challenging issues educators face today, like:
Social and emotional learning.
Whole-child education.
Career and college readiness.
Staff engagement.
21st-century education.
School culture.
Click here to find the nearest Leader in Me Symposium near you!
Tags: 21st century learning, 21st century skills, academics, classroom management, community engagement, emotional intelligence, goal setting, leadership culture, leadership lessons, middle school, parent involvement, pbl, principals, professional development, school culture, school environment, sel, self-directed learning, staff engagement, student empowerment, Student Engagement, student leadership, student motivation, student potential, Student-Led Conferences, teaching leadership, The Leader in Me, the Leader in Me Symposium, TLIM, whole-child education