Back
Learn More About "The Leader in Me"
Author: Carissa Logan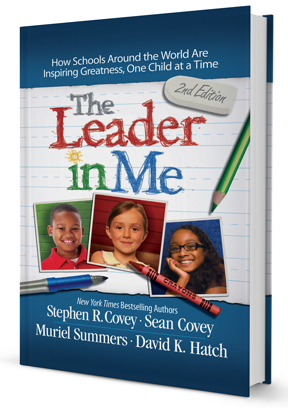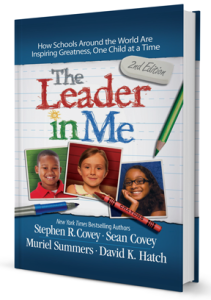 There are countless inspiring stories of students, teachers, staff members, and principals who are all leaders and who use the leadership principles taught in The Leader in Me to improve in all areas of life. Many of these stories are shared in the second edition of The Leader in Me book.
October through November we are holding The Leader in Me book tour for educators, parents, and community members to come learn more about The Leader in Me and to meet one of the authors. The events are in locations across the United States and Canada. Register for one of the events at leaderinme.org/booktour.
Here is one of the inspiring stories shared in the book about a student from Beaumont Elementary in Waterford, Michigan. His story is told from the perspective of his teacher, Melissa Brinson:
      Colby entered the fourth grade feeling defeated as a reader. He had struggled with reading from the time he entered school, and had a consistent record of losing ground over the summer breaks. Fourth grade was no exception.
      When Colby and I sat together at the beginning of the first marking period to set an academic goal, we looked over his reading pre-tests. We could see his patterns and decided that what was most holding him back was his word accuracy. He would notice the beginning blend, or digraph, and from there take a guess at a word. Poor guesses were at the root of his low scores.
      We set Colby's goal to move up two reading levels by the end of the first marking period. Together we crafted an action plan for how that would happen. His action plan involved meeting with me each day and reading a few pages out of his "Just Right" independent reading books. If he read with four or less errors, he earned a star in his planner that his mom saw each night at home. His mom followed a similar process at home using books sent home from school. This helped keep open communication between myself and Colby's mom.
      Tracking and seeing progress on the "Reading Graph" in his Leadership Notebook made Colby push himself. It truly empowered him. By the end of the first marking period he had already surpassed his goal. He was elated! He could see that not only had he reached his goal, but he had helped his entire class reach its goal of increasing the number of students reading at grade level. He loved contributing to the class goal.
      With each success, Colby felt more and more confident. He caught fire. By the end of the second marking period, he was already at grade level, an accomplishment he had never before met so quickly. He is now in fifth grade and did not have any "backslide" during the summer, which was another first. I truly believe it resulted form tracking his data, seeing his success, believing in himself, and feeling part of a team. I am so proud of the way he has learned to take responsibility for his progress.
 Colby is only one example of the countless students whose lives have changed because of the leadership principles they learn through The Leader in Me and through the caring leadership of adults around them.
We want to invite you to learn more about how you can be a leader for the students in your district, school, or classroom. Register for one of The Leader in Me book tour events and start inspiring student greatness today.
Tags: 21st Century, leadership culture, student leadership, leadership, The Leader in Me, school culture