Back
Clareese Capringo—A Problem-Solving Leader
Author: Carissa Logan
November 5, 2014
Clareese Capringo is a hockey-playing, service-oriented seventh grader at Lowell Community Charter Public School (LCCPS). Located in Lowell, Massachusetts, LCCPS is in its third year as a Leader in Me School.
Because of the principles and skills Clareese learned through The Leader in Me, she decided to be a leader and solve a problem she identified in her community.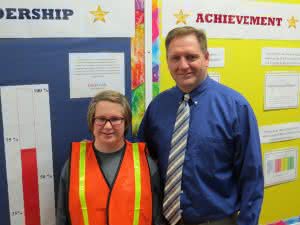 Last year Clareese's neighborhood was cut out of the school bus route. Many students now had to walk to school, often alone and through dangerous neighborhoods.
Amanda Capringo, Clareese's mother, explained that she was able to arrange for Clareese to still take a bus through her IEP plan. However, most of Clareese's friends still had to walk and were scared. Some of her friends didn't go to school unless they could find a ride.
Clareese decided to help her friends continue to go to school and feel safe doing so. She applied for and received a grant through the foundation Aaron's Presents. She used the grant to buy reflective safety vests and whistles for all the students who walked to school.
"It was getting dark and that's what helped me come up with the idea," she said. "Kids need to know that there are other kids who care."
Clareese said what she learned through The Leader in Me helped her with her project.
"My favorite habit is Habit 1: Be Proactive. It helps me feel more confident and also helps me want to be an example for the younger kids," said Clareese. "I also Put First Things First. I did my homework first, so I had time to work on the grants and the other things I wanted to do."
Through Clareese's leadership, every student at LCCPS has access to safety vests and whistles. This year Clareese has applied for other grants to provide every student in her city who walks to school with vests and whistles. Even if the grants do not come through, she plans to proceed with the project and raise the money herself.
"Clareese's example of leadership is one of the many we see in our students," said Randy Taylor, Assistant Head of School, LCCPS. "We are encouraging our students to take on leadership roles and different projects that they could create to benefit the community."
Clareese's mother said LCCPS's school culture of leadership is what encouraged Clareese to go forward with her ideas to benefit the community.
"When they started The Leader in Me, Clareese was already a leader and wanted to do things but was worried about stepping up," said Amanda Capringo. "Now it is a part of school culture. Everyone is encouraged to step up. It's cool to be a leader."
Tags: leadership, school culture, special education, spotlights, student empowerment, student leadership, The Leader in Me