Back
Improve Your School Culture By Giving Students a Voice
Author: Jennifer Williams
March 18, 2015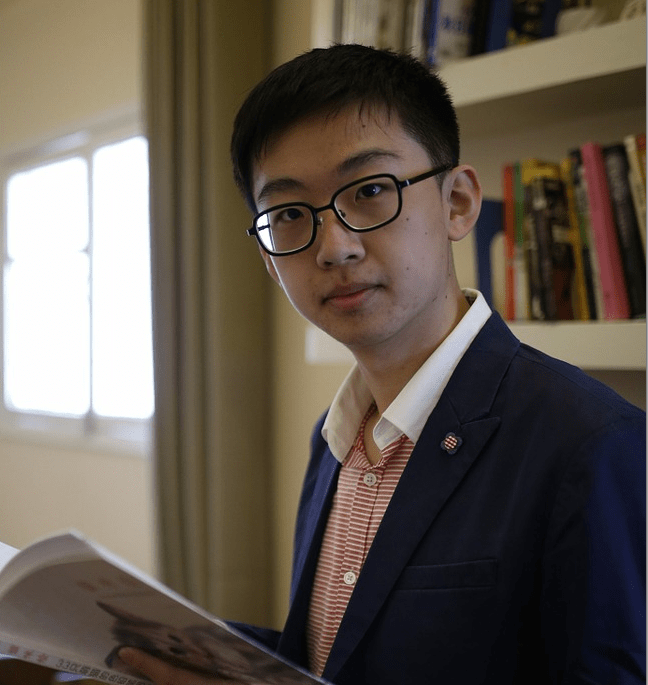 Have you ever asked yourself, "How do some organizations create a culture that supports the values they establish?" Have you ever walked into a school or other organization that captures your eyes, ears, and heart from the onset, where you can feel the positive culture? What is it about these organizations that differentiates them from others?
It's walking the talk! The people in these organizations don't just talk about the culture they want, they live it and model it, and it is integrated in a variety of ways into every part of the organization.
At Spencer County Middle School in Taylorsville, Kentucky, Principal Matt Mercer and his staff provide a safe and nurturing environment for students that supports the school culture of leadership. They don't just tell students to be leaders; they try to integrate leadership into everything the students see, hear, do, and feel at school. The staff members are focusing on learning, living, and modeling the 7 Habits in their daily activities, and they are encouraging students to do the same. They lead by example and give students ownership of the school.
Spencer County Middle School is in its first year of The Leader in Me process. The changing culture of leadership provides an empowering environment for the Student Lighthouse Team to identify how they want to inspire all of the students to be the best they can be by learning, living, and sharing the 7 Habits in their school community.
The Student Lighthouse Team has been organized to facilitate the vision for leadership in their school with a Staff Lighthouse Team. These students represent each grade level (sixth through eighth), and they bring a variety of strengths and ideas to the team.
They shared some of the things they have learned as they've begun the process of empowering students. These are principles that can be applied to any school hoping to improve its culture.
Start small—identify and focus on your highest priorities.
Early this year the Student Lighthouse Team identified their priorities or the "Big Rocks" they want to focus on throughout the year. They organize their activities around these goals. They are learning how to organize, facilitate, and evaluate their work each step along the way.
These are the priorities of the Student Lighthouse Team at Spencer County Middle School: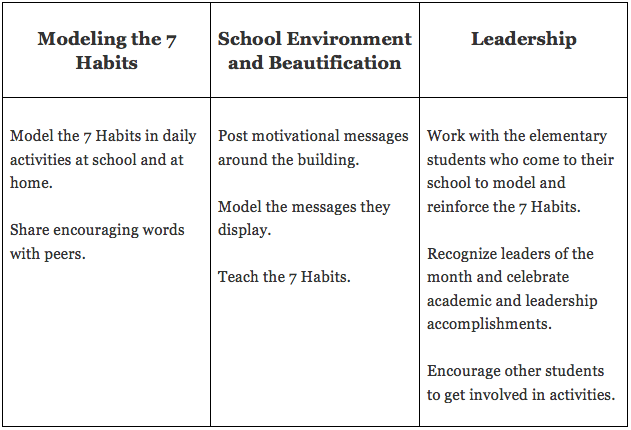 In their work together, they are growing a leadership culture from the ground up using a common leadership language and modeling effective planning skills. It is very common to hear someone in a staff or student meeting say, "Are we focusing on our Big Rocks?" or "What is our end in mind?" Students learn how to stay focused on their priorities and align their actions to those goals.
Take time to celebrate the successes along the way.
The students and staff realize that the school-culture transformation is a process, and they are careful to not over plan or set expectations too high. Each day is a new opportunity to learn and grow, and they recognize the growth that happens in a variety of ways.
Provide opportunities for students to have a voice.
It's not easy to release control of ideas and activities to the students. Yet, the staff at Spencer County Middle School is learning that by releasing control to students while providing guidance, modeling, and support, the students can and do step up to showing leadership in their individual ways.
Reflect and apply what you learn.
The members of the Student Lighthouse Team and staff are constantly trying to work together more effectively and involve even more students in leadership opportunities. They are learning to continue with frequent and effective communication, and they are there to support one another. They find that by using the 7 Habits in their discussions and modeling them in their actions, they are growing as teams, and the culture of the school continues to change.
Leadership at Spencer County Middle School will continue to grow and evolve because it's being inspired by students who have found their voice and by staff who honor the greatness in each of their students and let them lead.
What are you doing to give your students a voice in your school?
Tags: middle school, school climate, school culture, student empowerment, student leadership, student voice, The Leader in Me