Back
What We're Reading: "Harvard Business Review OnPoint"
Author: Judy Yauch
July 23, 2014
Recently I found myself in the airport, and like most people, I wandered around as I waited to board the plane. If you travel at all, you know you can find most every magazine imaginable in an airport. In one store, there was an entire wall devoted to magazines, but one in particular caught my eye immediately: Harvard Business Review OnPoint.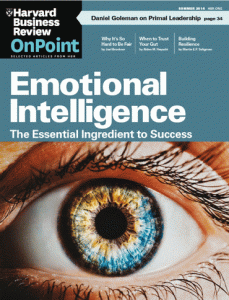 Each edition of the Harvard Business Review OnPoint focuses on a single topic. For summer 2014, the subject is "Emotional Intelligence: The Essential Ingredient to Success."
In one article, Daniel Goleman, cochairman of the Consortium for Research on Emotional Intelligence in Organizations at Rutgers University, lists the qualities that make up emotional intelligence—self-awareness, self-regulation, motivation, empathy, and social skills. Goleman's research looked at the ratio of technical skills, intellectual intelligence (IQ), and emotional intelligence to outstanding performance for jobs at all levels and found that emotional intelligence proved to be twice as important as the others.
In another article in the same magazine, Doug Sundheim, a leadership and strategy consultant with more than 20 years of experience in helping leaders drive personal and organizational growth, makes the point that while data reigns supreme in the business world, it is emotional data that is the key to facilitating change and growth.
The rest of the magazine is full of articles stressing the same thing—emotional intelligence is crucial.
I'm glad the business world is becoming more aware that simply looking at IQ or technical skills isn't enough to determine success. If businesses are recognizing the importance of emotional intelligence, shouldn't schools also put focus on it? Schools help prepare students to enter the business world. So it makes sense that, as educators, we would prepare students in all aspects.
In The Leader in Me, the importance of emotional intelligence is recognized. It focuses on a transformation of schools and students that impacts more than academics. Students participate in and learn leadership principles that guide them to becoming great leaders.
What do you think about the importance of emotional intelligence? How can educators better prepare students in this aspect of education? Let me know in the comments below.
Tags: emotional intelligence, The Leader in Me, what we're reading