Back
4 Disciplines of Execution: 5 Things Educators Get Wrong
Author: Andy Cindrich
June 25, 2019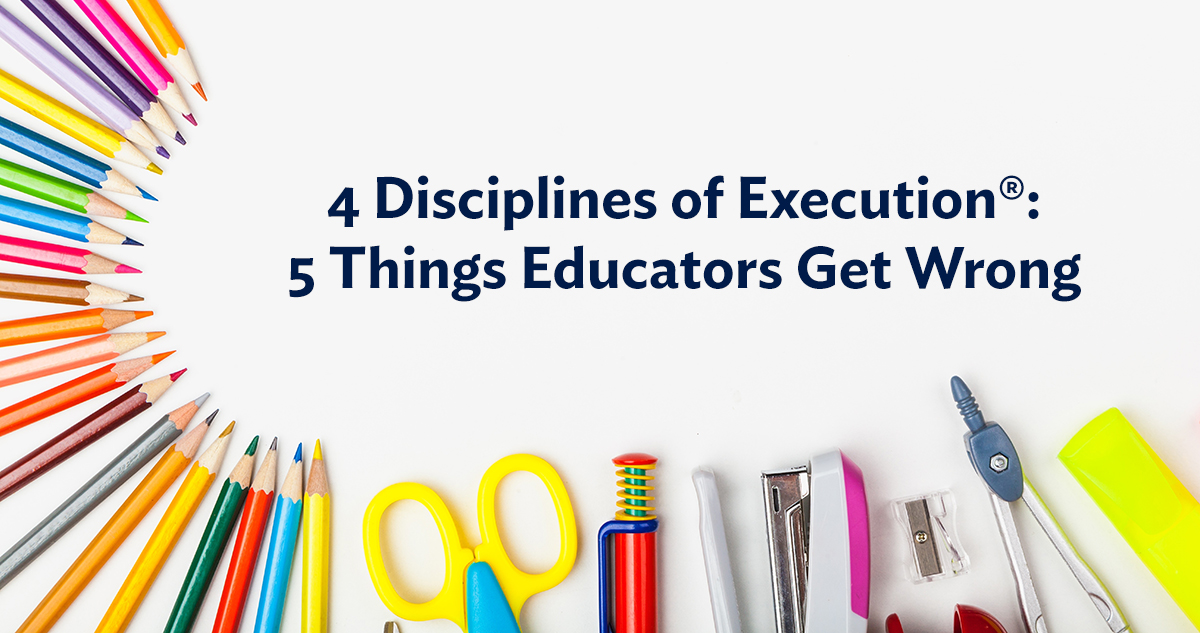 4 Disciplines of Execution® is a simple, repeatable, and proven formula for executing on your priorities in the midst of the whirlwind. When a teacher or educator adhere to the 4 Disciplines of Execution, they achieve superb results—regardless of the goal. Sometimes though, mistakes are made along the way. Here are some common mistakes made with the disciplines and how you can avoid them.
Not familiar with the disciplines? Familiarize yourself with the disciplines first.
Five Things Educators Get Wrong With FranklinCovey's 4 Disciplines of Execution®
Look, the problem isn't with the disciplines themselves—I was on the team that developed them back in the early 2000s—I'm a believer. Whether you're engaged in a top-to-bottom districtwide 4DX® implementation or are applying the disciplines as a Leader in Me School, the problem is that administrators, teachers, and students often make several critical errors when using them. Avoid these mistakes, and The 4 Disciplines of Execution is a machine that forges positive school culture and engagement while minting student achievement and growth. Get them wrong, and you'll start to think the disciplines don't work. Let's talk straight here: the 4 Disciplines ALWAYS work—IF you get them right! I'm going to share the top five mistakes I have seen in my nearly two decades of work in this space.
Mistake 1: Failure to Use the 4 Disciplines of Execution as Your Operating System
As the operating system on your computer allows you to run programs that produce work products, The 4 Disciplines of Execution is the operating system for creating your best personal and professional life, as well as the operating system for improving academic performance and school culture. No matter how powerful your computer is, your grading, reading, and math programs won't work without some version of Windows®, Chrome OS™, or macOS®. The 4 Disciplines is the operating system for a district, a building, a classroom, a school athletic team, or a performing-arts group—not just a program. Treat it like a program, and results around student performance and school culture will be fleeting.
Mistake 2: Choosing WIGs® With Metrics That Move Less Than Monthly
Many school systems think about goals in terms of vague, long-term objectives often tied to state or provincial standardized test scores that move only once a year, or survey data captured quarterly or biannually. This can't work. For a Wildly Important Goal® to be effective at engaging staff and students, it needs to be a metric that can be moved at least monthly if not every week. This is usually easy for businesses, but it's a unique challenge in educational institutions where the number of summative measurement opportunities can be limited, and teachers and students alike often feel burdened by frequent assessments. Regardless of the challenge and required time commitment, educators have to figure this out for 4DX to drive the best results.
Mistake 3: Failure to Get to Small-Outcome Lead Measures
Most people using The 4 Disciplines of Execution don't even know that there are two types of lead measures: leveraged behaviors and small outcomes. Leveraged behaviors help eliminate chronic inconsistency in the activities that produce the results you are trying to get. Examples include weekly lesson planning by teachers trying to improve performance on unit tests; daily journal entries by students trying to improve writing scores; daily sight-reading of music by ensemble members toward a WIG of earning a "1" at the State Solo & Ensemble competition; and high school basketball players completing 100 free throws per practice as a predictor of a "Win Sectionals!" WIG. Non-educational examples include: number of cold calls per day or weekly face-to-face meetings for a sales team trying to grow market share; wearing personal protective equipment (PPE) on a manufacturing floor in an effort to reduce the number of OSHA recordables; and calling guests by name in the hospitality industry to improve a Guest Satisfaction Score (GSS).
The problem with leveraged-behavior lead measures is that they are boring! Imagine that you are a teacher on a third-grade teacher-based team that has a WIG of improving the percentage of students reading at grade level by the end of the school year (with progress checked via monthly assessments), and a lead measure of students engaging in SSR (sustained silent reading) for 20 minutes per day, three times per week. During your accountability session, the best you can do is commit to perform the lead measure! "I will put SSR into the coming week's instructional plan." Or maybe you could add to the commitment the times and days the reading is scheduled, but that's it. Makes me want to nap like a kindergartner just writing this!
Small-outcome lead measures allow higher levels of engagement and thinking. They allow for multiple acceptable ways to impact the scoreboard when people/teachers/staff/students/athletes/performers are making commitments in the weekly WIG Session. Examples of small-outcome lead measures include:
Elementary Teachers: 80% of the students will achieve a 75% or better on weekly quizzes to improve an academic-growth WIG.
High School AP English Teacher: 75% of students will score a 4 or 5 on weekly English essays using the peer-review essay rubric to improve the pass rate on the monthly AP English prep assessments (and, ultimately, the pass rate on the actual AP English exam).
Middle School Student: Achieve an average score of 80% or better on daily science "bell ringers" to maintain a 3.5+ GPA.
Basketball Players: Get at least 10 offensive rebounds per game for a WIG of earning a top 2 seed in the region tournament.
Soccer Players: Make 20 shots on goal per game for a State Championship WIG.
School Nurse: 90% of students will return to class within 10 minutes or less to support schoolwide academic-performance WIGs.
New-Building Construction Project Team: Achieving weekly project-plan milestones to support the WIG of having the new school building ready for occupancy before Labor Day.
Booster Concession Team: Zero stockouts to support "average concession sale per paying fan" WIG.
Band Instructor: Each marching-band section will master (score a "5" on the mastery rubric) one movement and one marching "picture" per week.
Remember that small-outcome and leveraged-behavior lead measures need to be sensitive enough to move every week. Many TBTs and schools stall out on WIGs with leads that move less frequently.
Mistake 4: Using Scoreboards to Name and Shame
In a recent Fast Company article, Brené Brown wrote, "Shame—the intensely painful feeling or experience of believing that we are flawed and therefore unworthy of love and belonging—breeds fear. It crushes our tolerance for vulnerability, thereby killing engagement, innovation, creativity, productivity, and trust." Administrators, teachers, and staff must be careful in clarifying the intent of scoreboards. The purpose of a scoreboard is to motivate and engage people to step up their performance and find a way to win. The properly designed scoreboard allows students and staff alike to wrestle with performance data and should inspire them to experiment, learn, and share. An administrator or a teacher who uses scoreboard data to embarrass/shame people or pressure them into performing better will find individuals going through the motions and sometimes even rationalizing unethical scorekeeping. Effective scoreboards celebrate progress, point to those whose effectiveness should be replicated, and call attention to those who need assistance and additional support. Those who Keep a Compelling Scoreboard support Carol Dweck's idea of "growth mindset." The best performers are accountable to ensure that everyone in the school, classroom, team, or group is winning, even though they may not have figured out how to win "yet!"
Mistake 5: Getting Accountability All Wrong
The traditional view of accountability is that administrators must "hold people accountable." This mindset is negative, controlling, and drives dependence. School leaders, teachers, and coaches who are serious about improving performance see accountability as a personal choice and the catalyst for growth and improvements in proficiency. The accountability in Discipline 4 is about counting on each other. It's about team members making personal promises to each other about what they will do to help the team win. To enable this type of accountability, educators must solve the accountability equation: Goal Clarity + Commitment + Cadence = Results. High clarity, combined with commitment, creates "owners" who feel empowered to get stuff done. Low clarity and little commitment lead to drifting, while high clarity with little commitment leads only to compliance.
Commitment happens when the driving forces in a performance situation overcome the restraining forces preventing the behavior change required to make progress. To support the highest levels of commitment, smart educational leaders provide focus and goal clarity; create a "no excuses" weekly rhythm of making and reporting on commitments; ensure educators, support staff, and students create and then maintain scoreboards; and encourage high levels of involvement in determining WIGs and lead measures.
If you've been making one or more of these mistakes—STOP! If you know someone else who is blundering in their 4DX implementation or the execution part of Leader in Me, then please share this article with them. If you see things differently or have a perspective to add, please comment to deepen the conversation and help more educators and students get it right.
Tags: 4 Disciplines of Execution, 4DX, professional development