Back
Avery's Creek Leadership Lunch-Buddy Program With Hampton Inn
Author: Carissa Logan
October 21, 2016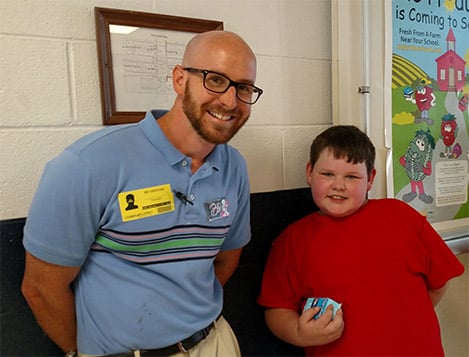 This is a guest post written by Denise Montgomery, principal of Avery's Creek Elementary in Arden, North Carolina.
Community and business partnerships are an extremely important part of The Leader in Me process at Avery's Creek Elementary School. One partner has stepped up to create a program that has caught on internationally!

When Denise Montgomery, principal at Avery's Creek, surveyed her staff for possible connections to the community, one of her teachers encouraged her to contact the folks at Hampton Inn. This is the story of that budding and effective partnership.
As our school was preparing for our Leader in Me staff overview to get a pulse on the commitment level from both staff and community to implement the process in our school, we invited several staff members from Hampton Inn to sit in on the meeting. After hearing about The Leader in Me and meeting with me, chief operating officer at Hampton Inn, Brenda Durden, was sold. "We found The Leader in Me to be a great culture fit between the staff at Avery's Creek and our hotel company. It not only benefits the students we were mentoring, but it was uplifting for the staff as well. As an employer, I come across many people who do not have the skillset needed to be successful and support themselves; TLIM teaches valuable self-management and interpersonal skills and makes them important in daily life. We could see the potential in these children and the dedication of the staff, and we wanted to encourage and support the process any way we could." 
Once Brenda Durden and Michael Horvath, one of her colleagues, met with me to discuss how they could become involved, they were extremely excited and ready to jump in. I knew as soon as I met with them that this partnership was going to be different. I was not going to ask them to sign on the dotted line or write me a check; I was asking for something more valuable than money—I was asking for their time.
So I said, "Do you know what I would love to do?" "What? Tell us," they eagerly replied. I shared, "I would love to create a mentoring or 'lunch buddy' program where adults come to the school to eat with our students one day a week and spend time with them, chat with them, and model positive leadership traits." Immediately, they said, "Then what are we waiting for? Let's do it!"
From that conversation, the Avery's Creek Leadership Lunch-Buddy Program began. We started with 14 lunch buddies last year and have increased the number to 38 Hampton Inn employees who are paired with students for a weekly lunch and visit. Most volunteers have one or two buddies to eat with, but one person, Barb Kish, adopted the entire kindergarten class. She said, "You know, we're supposed to be assigned to one or two students, but what can you say when a child looks up at you and asks for a hug?" She goes on to say, "Their energy is contagious—I'm hooked!"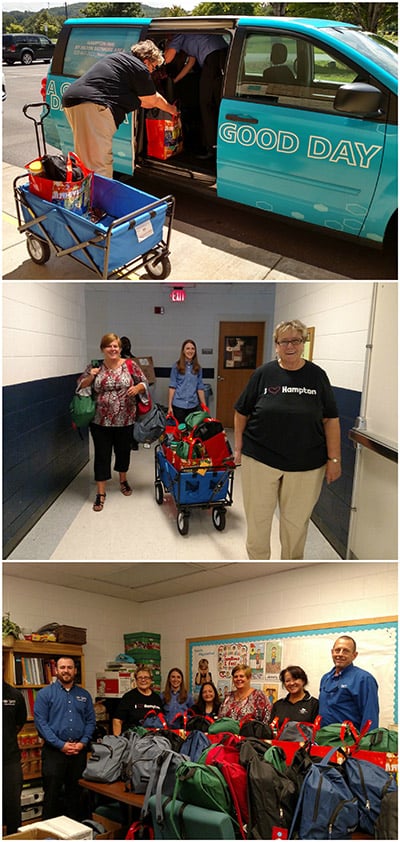 The children's confidence has skyrocketed as a result of their participation in this initiative. One student wasn't even talking at the beginning of the year, but now is extremely outgoing and made the honor roll on his last report card! Another young lady was one of the speakers at our Leadership Day. Last year there would have been no way she would have been comfortable with public speaking, but all of that changed with her participation in this program. Her confidence has soared.
Our lunch buddies will tell you that they have benefited far more than the children as a result of their participation in the program. Hampton Inn published an article on the Hampton Inn website, and now Hampton by Hilton wants to start the program in countries such as Poland and New Zealand. We are so excited! We plan to expand the program this year to hopefully bring two more community groups on board with Hampton Inn.
Hampton Inn has also been extremely supportive this year in other ways, such as providing 75 backpacks filled with school supplies, providing nice leather lap desks for all 125 of our fourth graders, speaking at school and community events about the impact of our partnership, sponsoring our fourth-grade Battle of the Books team by purchasing their shirts and volunteering at the event, and sponsoring a water fun station for field day.
We are grateful to have developed such a wonderful partnership with Hampton Inn, and we look forward to seeing our partnership grow even closer in the future. They are truly wonderful role models for our students, and we are so fortunate they have chosen us as their partner!
Tags: 21st century skills, community engagement, emotional intelligence, great schools, leadership culture, school culture, school environment, staff engagement, student empowerment, student motivation, student potential, The Leader in Me