Back
#FeaturedTeacherFriday & Lighthouse School News
Author: Leader in Me
May 16, 2019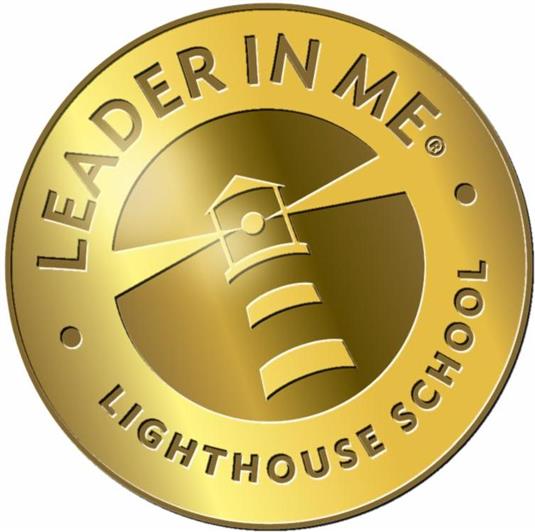 Kristen Bell's #FeaturedTeacherFriday featured Leader in Me teacher Jillian Garcia this week. Lighthouse School recognition and Leadership Days are continuing to happen in the Leader in Me Community. From welcoming new schools into the community to achieving Lighthouse School status, we are so proud of the accomplishments everyone is making. There are so many great achievements constantly happening so to stay even more up to date on Leader in Me news be sure to follow us on Instagram, Facebook, Twitter, LinkedIn, Youtube, and Periscope.
Lighthouse School News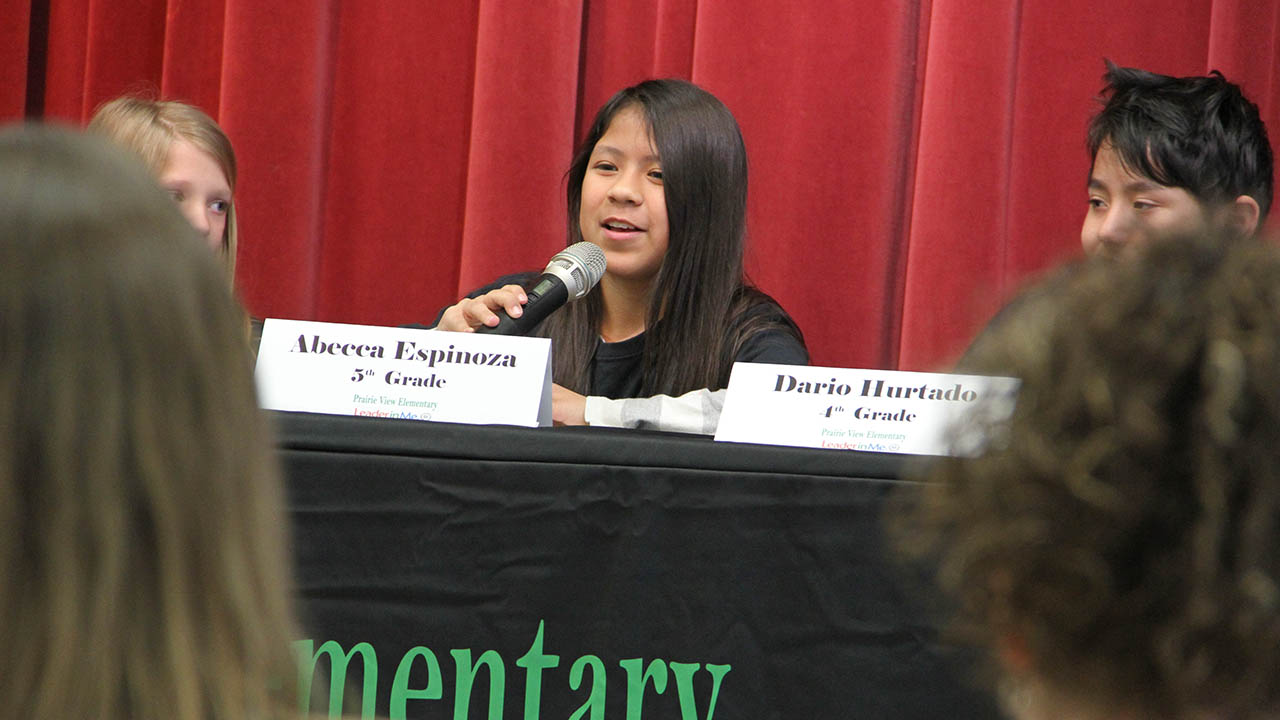 Prairie View and Seven Hills were named a Lighthouse Schools last week. Principal Kim Blackburn of Seven Hills and Principal Yolanda Wallace of Prairie View shared similar sentiments about the state of their school's culture and the students. Principal Wallace said, "We have seen such amazing results from implementing the Leader in Me process at our school, such as student ownership and growth in academics, increased student voice at all campus events and empowered campus of leaders who are changing our community," she said. "One example is a student who has been reading below level since first grade. Over the past two years, she has been setting wildly important goals to read on grade level. She and her teachers have been working lead measures, holding one another accountable and is now reading on grade level."
Through the process, both schools have seen growth in their students and expect the growth to continue. Principal Blackburn's said, "Through the Leader in Me, we are preparing students for future success, including academically, socially and emotionally," she said. "We are building confidence through tasks such as focused goal-setting, providing opportunities for students to lead or engage in clubs based on interest or choice, and teaching the seven habits."
Education News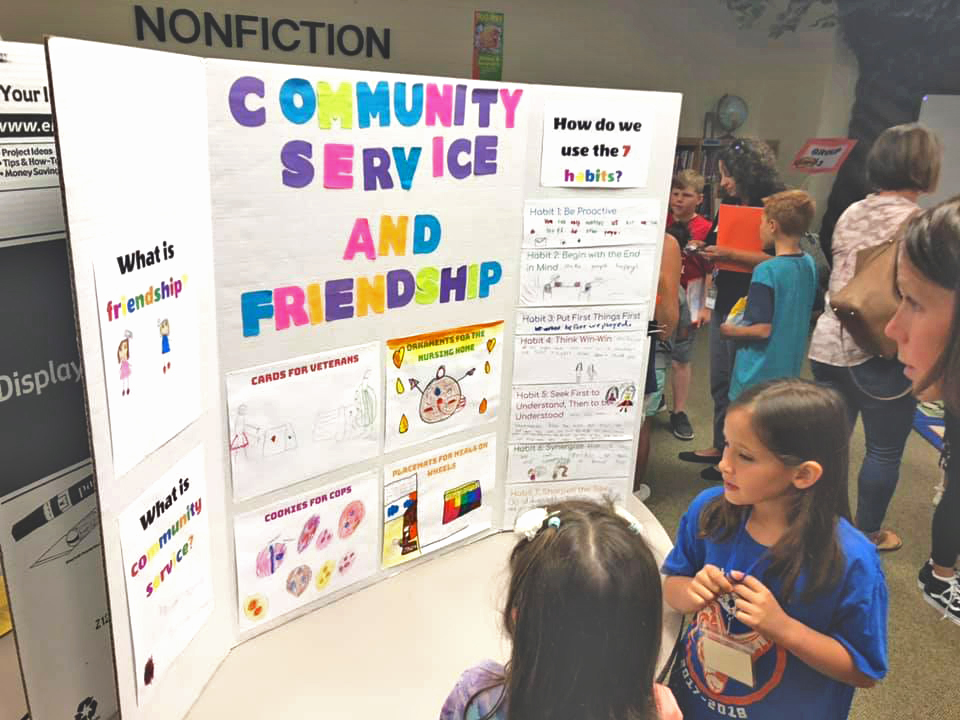 Sandy Ridges Elementary School, located in North Carolina, hosted its first annual Leadership day May 9th. They had a superhero theme for welcoming and hosting guests and they performed a 7 habits song for everyone. Their Superintendent, Dr. Houlihan even stopped by to visit.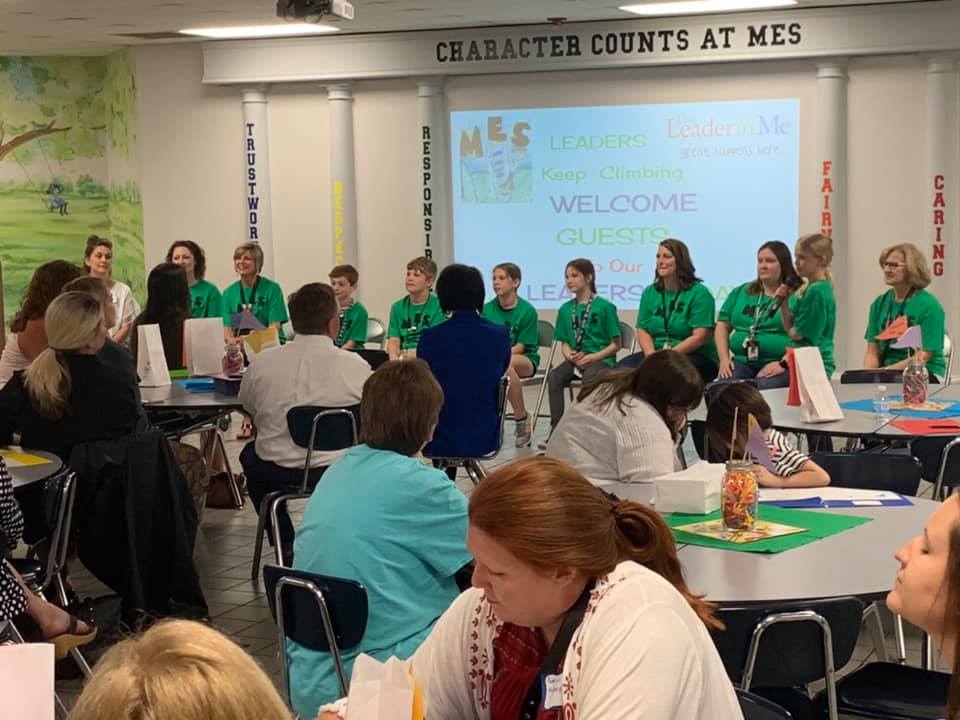 Milan community school, located in Indiana, also had their leadership day on the 9th of May. They showcased their leadership roles and their great leadership skills. Students even gave tours and showcased their achievements to eager visitors! 
#FeaturedTeacherFriday
We had a Leader in Me teacher featured on the actor Kristen Bell's Instagram Page! For those not familiar with #FeaturedTeacherFriday, actor Kristen Bell started the hashtag as part of #10FeaturedTeachers movement. The New York Times reported in a survey that as much as 94 percent of teachers in the United States pay for school supplies needed for their classroom out of their own pockets. To show support for these teachers, celebrities are joining together to donate and crowdfund for teachers that are teaching the next generation of students.  
For #featuredteacherfriday, Jillian Garcia, a kindergarten teacher at Ekhart Elementary School in Colorado, was featured on Kristen Bell's Instagram page. Jillian wrote that she teaches "…kindergarten in the very small town of Trinidad, Colorado. I work for Trinidad School District 1. I teach at Ekhart Elementary, and we pride ourselves in teaching our students how to be leaders. We have implemented the Leader in Me into our daily teaching and we actually became the first K-1 school to become a lighthouse school in Colorado. I believe in my students and love helping them grow and lead. It is amazing to watch our kindergarteners get up and speak and lead our awards assemblies and welcome their parents and community members to our school. I also believe in teaching them more than just our curriculum or what is on the "test," I love teaching them about the world and my favorite thing to teach is life science. I absolutely love what I do and love making a difference for my students, but in recent years our school numbers have dwindled and so has our budget. Our school needs many maintenance improvements and we do not have the funds for any technology or to give the teachers any type of classroom budget. So for many years I have paid for the things my classroom and students need with my own money. Having the funds for some up to date technology and school supplies would be amazing for my classroom and our school!"

Tags: featuredteacherfriday, news