Back
Ideas for School-and-Community Partnership Projects
Author: Marshall Snedaker
March 23, 2016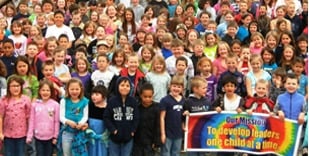 Orchards Elementary is a sixth-year Leader in Me School in Lewiston, Idaho. Over those years, Principal Kristy Brinkerhoff and her staff have worked intentionally to partner with their community to meet some of the basic needs of their students and families.
We published a question-and-answer post with Principal Brinkerhoff and Community Action Partnership Community Engagement Director Angie Titus about how they have partnered together to benefit the school and the community. You can read that here.
In this post, we compiled a list of some of the projects they've been able to accomplish through their partnership.
The health department offers immunizations at back-to-school events.Principal Brinkerhoff said, "It was so crazy to me how hard we worked to get our kids immunized. I kept thinking, why don't we have the health department here at some point to remove a barrier for parents. I just called our health department and asked if it was something they would be willing to do. Now, at all of our back-to-school events, we have a station manned with nurses from the local health department, and they check immunizations, provide the shot there if they can, or they schedule appointments."
The students participate in projects to give back to the community. At Orchards, each classroom commits to doing two student-led community-service projects. One fifth-grade class decided they wanted to work at the local animal shelter after school. The fifth graders coordinated everything from who would volunteer when, to which parents would provide transportation. 
Community Action Partnership connected the school with a nonprofit to provide families with access to an onsite food pantry at the school.
Community Action Partnership worked with nonprofit organizations to host and maintain a clothing closet for the school's families.
Businesses supported a few families for Christmas, and others supplied some Thanksgiving meals for families.
Community Action Partnership trained all of Orchards' staff in Bridges out of Poverty and Adverse Childhood Experience training.
Principal Brinkerhoff shared that because of the resources the community has provided, their students come to school with their basic needs met, so they are ready to learn. She said that schools don't have to ask for money, but they can and should ask for help.
Tags: community engagement, leadership culture, school culture, school environment