Back
Inspiring Great Cultures at School and at Home
Author: Kalli Sampson
May 18, 2017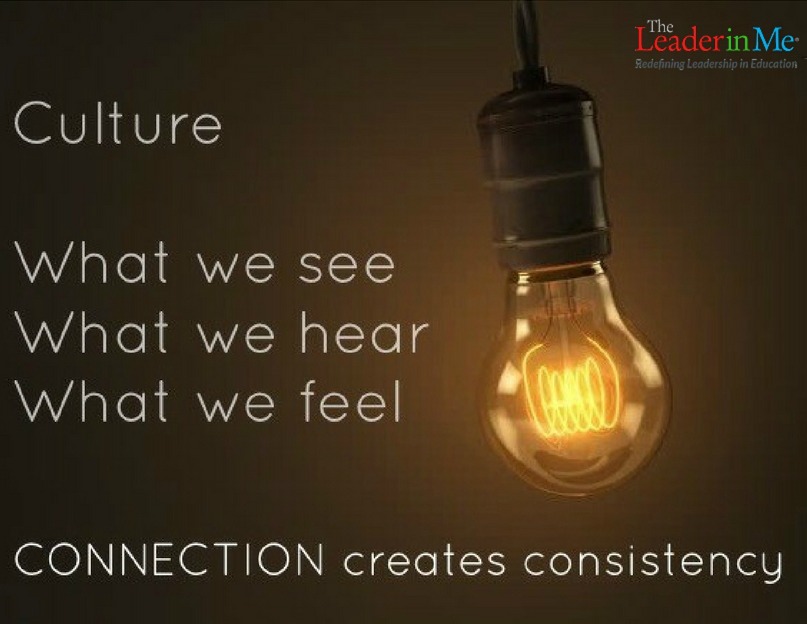 Great Cultures
I am a parent of students who attend a Leader in Me School and I am sharing my personal experience of how the Leader in Me has impacted my life.
The principal at my children's elementary school, Riverside Elementary, invited me into his office just over three years ago. He handed me a book and said, "I want you to take a look at this and let me know what you think. We're thinking about implementing this process at our school so I would love your feedback from a parent's perspective." The book was titled The Leader in Me. I had never heard of it before. However, the author, Stephen Covey, piqued my interest.
I was familiar with Stephen Covey because he was the author of The 7 Habits of Highly Effective People, a book I had read in college. The sound principles and habits had given me essential foundational tools for success clear back then that I had implemented into my own life. The principles and practices have proven through time to be keys to a fulfilling life. Through the years, I have asked the question, "Why aren't we teaching this stuff to kids at school?"
I thanked the principal for the book and went on my way. When I started what I thought would be a casual read, I did not realize what I had actually begun. As I read the pages in the book, something lit up inside of me. I grabbed my highlighter and started making all kinds of notes in the pages. I had found the answer to my question! I was so excited to discover that there is actually a process and model available to teach kids "this stuff"—a way to help children, teachers, and staff at the schools, and even the community members discover their own greatness within, and as Stephen Covey says, "unleash human potential."
I went back to the principal, hardly containing my excitement, and said, "Yes! I will absolutely support implementing this (Leader in Me) at this school." I wanted it at my school for many reasons, but especially because I wanted my children and every child in this community to have the opportunity to discover the greatness that is already inside of them, through learning and thriving in an environment that operates on effective life principles.
Building A Great Culture
And so it began. Our journey of growth and inspiring greatness and being inspired through the Leader in Me process. We moved forward together as a group of talented faculty, staff, children, parents, and community members.
I was grateful for what we were becoming, individually and collectively, as we progressed through the transformational process. I also realized there was another opportunity to strengthen our children, and our families, along the way.
Our children generally spend most of their time in two places: at school and at home. Every place has a culture. We have school cultures. We have home cultures. The Leader in Me book describes culture as "the way we do things around here." But also, that culture isn't the list of values or the policy manual or even what is proclaimed as the mission of the organization. Culture is how people actually behave and treat each other on a consistent day-in and day-out basis. Culture is what you see, hear, and feel.
So our children spend most of their time in these two cultures. What are they seeing, hearing, and feeling in discussions, in the classrooms, and out on the playground? This is their school culture.
And what are they seeing, hearing, and feeling on the walls, in the living room, and around the dinner table and play area of their home? This is their home culture.
Do they feel loved, accepted, inspired, supported, validated, and understood? Are they trusted to make their own decisions? Do they have a clear understanding of expectations? Do they have opportunities to discover their unique genius?
Is there anything that is connecting our home and school cultures? Why would it matter? What are the benefits of making the connection, of providing consistency between cultures? I invite you to stop and think about this for a minute. How would creating consistency between the two cultures help you as a parent? How would it help your school and the teachers? How would it help your child?
Having consistency between healthy cultures promotes a feeling of safety, provides stability, offers consistent expectations of behavior and attitudes, and creates opportunities for success. It also creates added strength and support to these individual cultures. It creates an environment for synergy, where the whole is greater than the sum of its parts.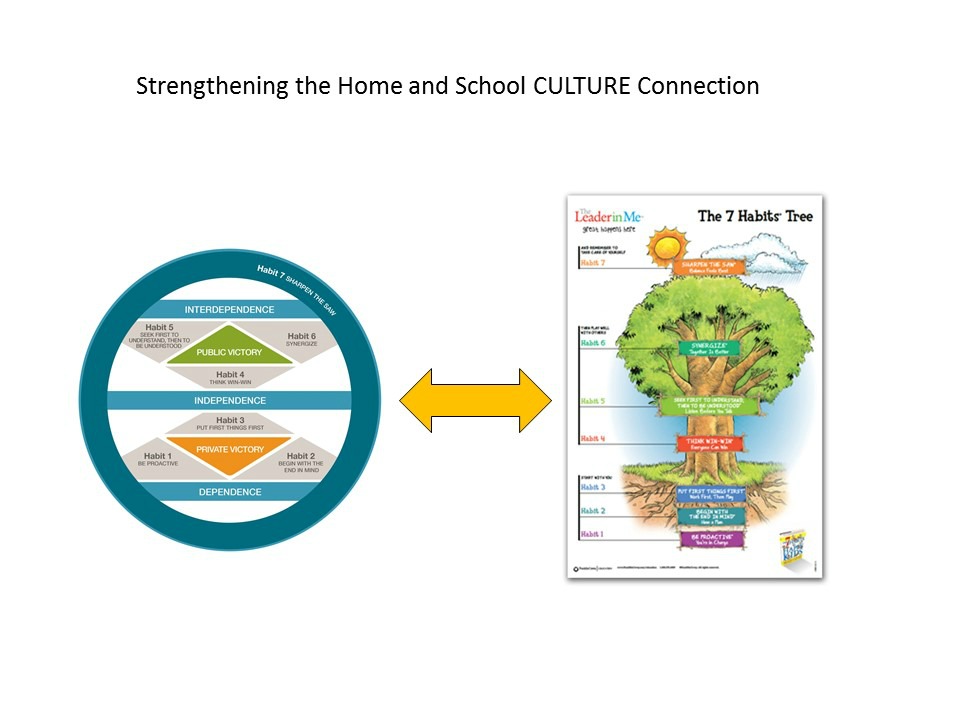 We have been intentional in our efforts to strengthen the home- and school-culture connections at Riverside Elementary. We just had our annual Sharpen the Saw Family Fun Run. We have family-picnic lunch days. We also offer The 7 Habits of Successful Families workshop, taught by a certified facilitator, for parents to attend. One participant from this workshop commented that it completely met her expectations because it was "very inspiring, eye-opening, and motivating. I learned great new ways to communicate with my husband and kids. We are very optimistic about our future now, whereas we were hitting some frustrating brick walls before."
How can we as parents create a culture at home that appropriately aligns with the culture at school? No matter where we live, what school our children attend, or how old they are, they are all leaders in their own unique way because they have greatness within them. As parents, we have the opportunity to create the culture in our homes to reflect that paradigm. We can create a culture that inspires greatness—at home and at school.
Through the next several blog posts, we will be identifying and discussing opportunities and tools we can use to create leadership cultures in our homes. We'll take a look at our paradigms, also known as "the way we see things." We'll focus on foundational basics that will help us build a successful family culture. We'll share experiences of how the common language and practices within Leader in Me can be implemented in our homes and provide tools for greater success in our families.
Together, we can inspire greatness.
For more information on The Leader in Me, please visit: http://www.leaderinme.org
Tags: sel, How to, Leadership at Home, what is, Student Engagement, education, emotional intelligence, goal setting, leadership culture, 21st century education, student leadership, leadership, whole-child education, student empowerment, leadership lessons, The Leader in Me, community engagement, parent involvement, school culture, 21st century skills, social emotional learning