Back
School Spotlight: Downey Elementary—A Place for Parents Too
Author: Carissa Logan
November 19, 2014
At Downey Elementary in Harrisburg, PA, students aren't the only focus. Parents are too, and they know it.
Principal Travis Peck said that since Downey Elementary began The Leader in Me process in 2013, the paradigm of leadership has spread through the school and the community and has positively impacted the parents.
"We're all about promoting the parents and the child," he said. "The parents are excited because they see their child in the spotlight, taking on leadership roles. Parents know we're here to help their children."
Anthony McDonald is a parent of three students at Downey Elementary. He said he is impressed with the life skills his children are developing. As a parent, he is also appreciative of the new environment The Leader in Me has helped create at the school for parents.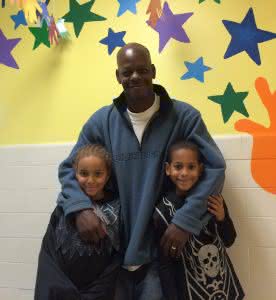 "Teachers aren't reactive. They're more understanding and are there for the kids," he said. "A couple of years ago, it wasn't like that. People came in to argue with teachers. Now there is a feeling of respect when you walk into the school. It is wonderful."
More than a School
At Downey Elementary, 92.5 percent of the students are eligible for free or reduced lunch. Many parents need help providing basic needs for their children, and the school does what they can to help through afterschool programs, gifts, and health care.
"We work with local businesses that donate different products like gift cards, products, and raffle off these items to families during different school events," Peck said. "We also work with a local dentist and have an in-house dental clinic that is attached to our building. We have a health clinic as well, and through that we help parents who need insurance."
McDonald said, "These types of resources make Downey Elementary more than a school. Mr. Peck helps see what problems there are. The administration goes out of their way to make sure the students are okay."
Clear Communication
Mr. Peck also works to provide clear communication with parents so they are aware of programs and events at the school. Each month parents come with their children to "Moms and Muffins" or "Dads and Donuts." At these events, parents eat with their children while the school administration shares updated information. Most importantly, parents are able to share their ideas and ask questions.
McDonald said he also appreciates the accessibility of the teachers throughout the year.
"There is contact information for every teacher on the website," he said. "If we want, we can set up individual meetings with the teachers. They will meet with us and our students or just with us.
Working Together
Peck said the progress the school has seen is because everyone is involved in making the school a better place and empowering students to be leaders.
"We need to sit down and talk as adults and work together," said Peck. "These kids are our future. We need to set them on a foundation now."
Tags: community engagement, leadership, parents, school culture, spotlights, The Leader in Me