Back
Our International Student Speech Contest Ends Soon!
Author: Carissa Logan
March 15, 2017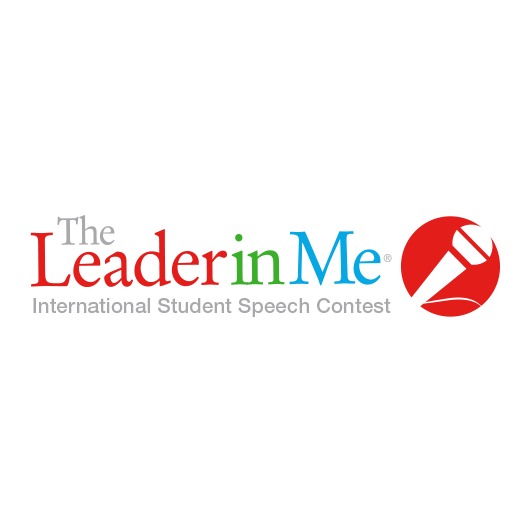 Our second annual Leader in Me International Student Speech Contest will be accepting entries for exactly two weeks and two more days. Students K–12 attending a Leader in Me School have until March 31, 2017, to submit a two-minute video. A panel of judges will be limited to reviewing English-speaking videos in two categories: traditional and creative.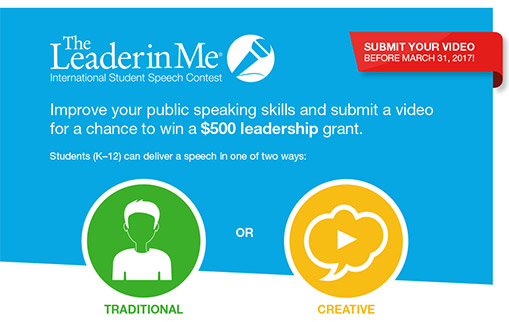 Traditional Speech
A traditional speech is delivered in a format we are accustomed to when we think of public speaking. Whether behind a podium, on stage, or with a nondistracting background, here are a few tips for delivering a great traditional speech:
Present in front of a live audience.
Ensure lighting and audio quality.
Use natural hand gestures.
Deliver memorized.
Creative Speech
A creative speech gives students an opportunity to explore a variety of ways to create a powerful message on video. The video could be about an inspiring message, a self-written song, a service project, an interview, or even a skit that relates to leadership. Here are a few tips for delivering a great creative speech:
Collect signed permission forms from anyone on video.
Avoid copyrighted music, logos, or content.
Be creative with a strong message.
Ensure lighting and audio quality.
Use simple video-editing effects.
Students are challenged to submit a video of their speech on an engaging leadership topic they care about such as:
One idea that could change the world.
How I can lead those around me.
Why everyone can be a leader.
What leadership means to me.
A leader who has inspired me.
A problem I want to solve.
A $500 leadership grant will be awarded to eight students to help demonstrate leadership in action at home, at school, or in the community. Participants should first consider what they would do with the grant (if they won) and submit their plans for its use during the entry-form process. The decision is up to the student, but here are a few suggestions to make a difference as a leader:
Identify and fix a problem that exists at school.
Donate the money as a charitable contribution.
Organize a service project in the community.
Purchase personal school supplies.
Help a class member in need.
Contribute to a college fund.
In addition to winning a $500 leadership grant, all Grand Prize winners and finalists will be featured on The Leader in Me Blog, Facebook®, Twitter®, and YouTube® channel!
Tags: 21st Century, 21st century skills, emotional intelligence, goal setting, leadership, leadership culture, leadership lessons, school culture, student empowerment, Student Engagement, student leadership, student potential, The Leader in Me, whole-child education