Back
A Thankful Pumpkin Tradition for Families
Author: Marshall Snedaker
November 23, 2016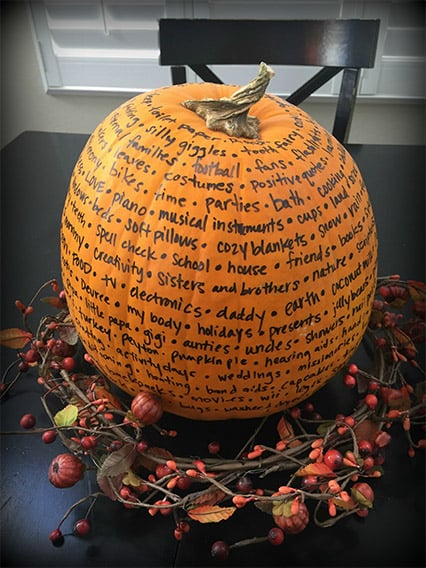 The Thankful Pumpkin Tradition
We started a family tradition last year that has quickly become an evening we all look forward to. We gather together as a family with a pumpkin and a permanent marker. Each person takes a turn listing one thing we are thankful for and then the next person contributes to the pumpkin until we have filled the whole thing.
At first, the items that get listed seem to be more general (family, work, school), but after we have gone around the circle a few times, we name all of the general items and then we have to think about more specific things that bring us happiness (summer sleep-outs on the trampoline and mint chocolate-chip ice cream), and we get to see what is important in the eyes of each member of our family. It is heartwarming to hear the love for family, for celebrations of the past year, and even for trials that have been hard but we overcame and now, looking back, we can see how we are grateful for the experiences.
This special night of gratitude is one filled with laughter and thoughtful reflection on what makes us happy and how lucky we are. Once the pumpkin is filled with thanks, we place it in the center of our kitchen table to see and read the pumpkin every day throughout the season.
It is a simple way to help all of us, young and old, realize that we have much to be thankful for in our lives this holiday season and throughout the year.
Two varieties to this activity are:
Fill the pumpkin with items you are grateful for on Thanksgiving Day during your holiday feast and display it on your dinner table for everyone to read.
Make a classroom Thankful Pumpkin and have your students contribute to the list of things they are grateful for and keep the pumpkin in your classroom on display.
Tags: community engagement, emotional intelligence, leadership culture, leadership lessons, parents, student activities, student empowerment, teaching leadership, The Leader in Me, wellness-leadership, whole-child education